Sculpted by the elements. Designed for living in nature. 
Seemingly simple, Nivå 6 is striking in its sweeping form and free in its connection to the environment. Shaped entirely to its space, structure is connected by thoughtful detailin...
Exterior View with Optional Grand Primary Bedroom Level
Firepit and Outdoor Lounge
Floor
Floorplans
Ground
First Floor
Second Floor
Third Floor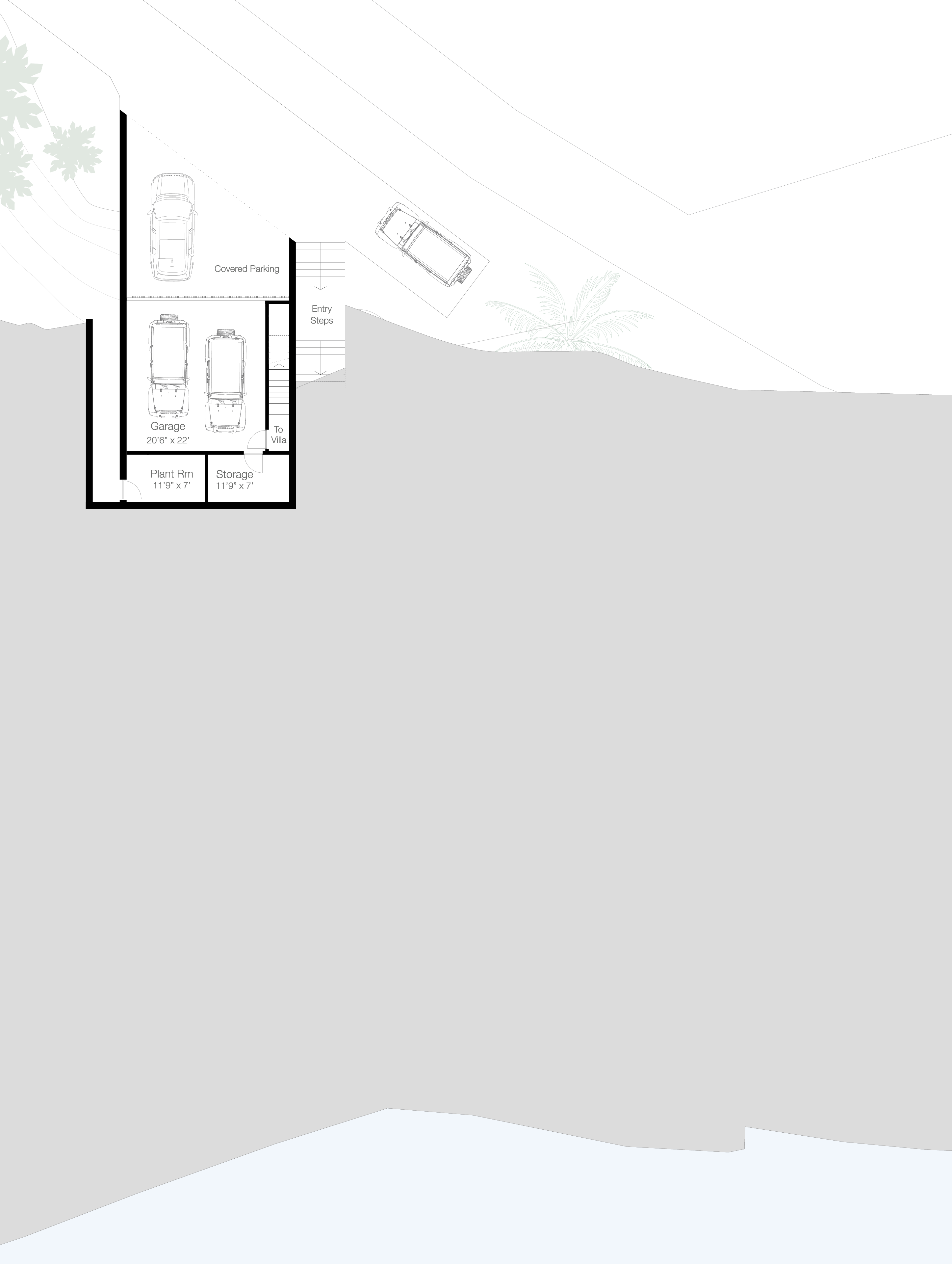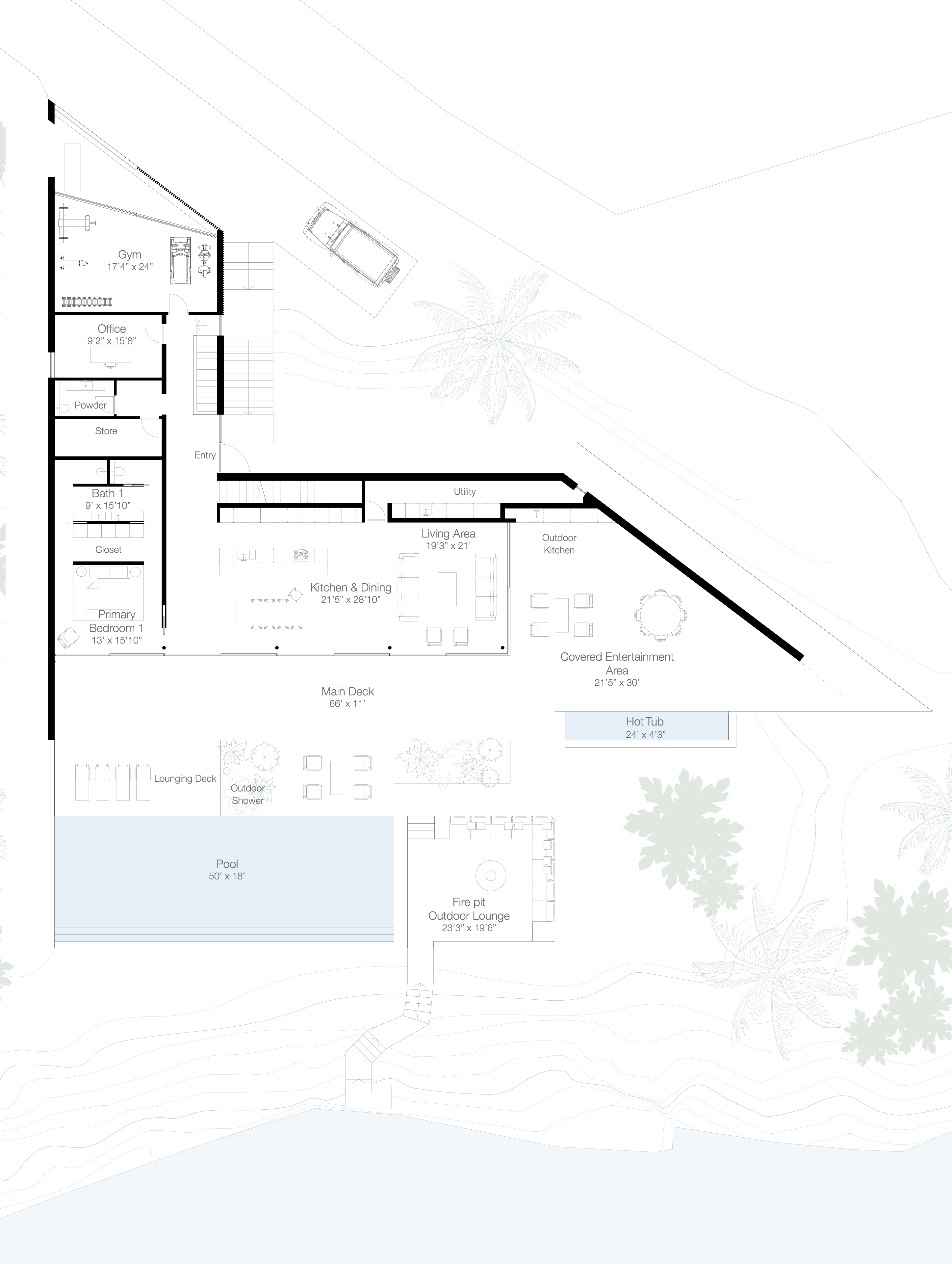 DOWNLOAD PDF
Seven oceanfront bedrooms
Feature grand primary bedroom with owner's lockout closet
Ocean-facing primary bedroom on first floor
Five ocean-facing bedrooms on second floor
Oceanfront feature hot tub
Oceanfront fire pit lounge
Dedicated office on first floor
Gym on first floor with Juba Sound views
Separate utility room and prep kitchen on first floor
Two-car garage with owner's storage
Roof terrace on second floor with Juba Sound views
Extra wide villa frontage at 167ft
Feature kitchen island by Boffi
Gaggenau or equivalent appliances
Large-format porcelain floortiles throughout
Elevator servicing all main floors
Solar package with batteries
Ocean staircase cut into iron shore
Elevations
Proposed South Elevation Nivå 6
Proposed South Elevation Nivå 6
The Concept
The plot featuring 167 ft of frontage, Nivå 6, sits on the edge of the iron shore and welcomes panoramic views. At the podium level, the large pool, landscaped outdoor living spaces, and welcoming lounges are framed by textural stone walls and overlook the ocean.
Composed of two distinct facade finishes, above the stone podium level sit the wooden finned volumes. Full of natural light, the main living, dining, and kitchen spaces extend behind an entire glass wall that opens seamlessly to the vast shaded terrace with seating areas and an outdoor kitchen. The ground floor primary bedroom, situated at one end of the villa, provides privacy and convenient access to the main living spaces. As the site tapers to a point, so does the architecture. The frontage meets the available space and opens to create the maximum view with five ocean-facing bedrooms and shaded terraces on the second level. A Juba Sound-facing rooftop terrace completes this level.
At the highest level rests the grand primary volume, where the extended, elegantly slender overhang provides a wonderful set-back outdoor space for uninterrupted outdoor living.
Masterplan
Disclaimer
The content of this website does not form part of any contract, nor does any part constitute a representation or a warranty. The plans and renderings illustrated depict the overall style of the development and have been prepared for illustrative purposes and are indicative only. The plans and renderings are not drawn to scale. The exact dimensions of each lot may vary and shall be confirmed prior to legal transfer of the title to the plot. The plans and renderings depict the intended layout and design at the time of creating this content, however the developer reserves the right to make changes to the layouts shown at the sole discretion of the developer.